Donkey News

This page is used to share any news/changes regarding our donkeys.

10. December 2017 - We have had a very busy summer welcoming several beautiful babies. We also added two new jacks to our farm and hopefully we have had some breeding success with them this fall. Custer is a dark spotted, handsome boy and Cash is a red based frosted spotted white. We had first planned on only purchasing Cash but Custer was his best friend and we didn't want to breed during the summer months. The first time we saw that two mature jacks get along with each other so nicely. We don't regret our decision in purchasing Custer as well. He is a nicely built, heavy boned jack. We also encountered the never ending "new" things that we have never dealt with before. This year one of our babies was very sick because her mom's colostrum must not have been good (no protection). So little Sirachi had an extremely difficult 3 months with lots of meds and lots of extra hugs, and a super devoted mom that would never give up on her. Her mom certainly deserves the best donkey mom of the year award. We are happy to report that Sirachi since September is doing much better. To everyone a nice holiday season - and a wonderful start to 2018. We should welcome our first 2018 foal in March (our last Sundance baby). 2018 will be exciting with foals from all of our new jacks.


04. April 2017 - We welcomed another sweet little jack foal - the first one of our real foaling season. We named him "First Pitch" since he is the first foal of the season and he is a very dark/black little boy. Sundance left for his new home a couple of weeks ago - which of course was a sad day for us. We miss him calling to all the girls on the farm. We will soon welcome "Swagger" from Cyderbay Farm from Wisconsin. He should arrive within the next couple of weeks and hopefully will fill Sundance's hooves nicely. Firecracker has been introduced to some of the girls but so far noone has come into heat. We are watching closely to make sure he doesn't get mistreated by any of them. He seems to enjoy being out with "the girls" and not just with one pregnant girl. Nacho has three headstrong girls for himself now as well, which will proof to be a challenge for him. They are protective of each other and are giving him a hard time. We will wait and see what happens or if we have to break up this headstrong group of girlfriends. We will also welcome some jennies from West Prairie Farm. We are awaiting 3 pregnant jennies first. The three younger girls should get here some time in June. Can't wait to get them home : ). We were also busy building a new small barn for our back pasture - replacing an older shed. It turned out nicely but not all of the donkeys have gotten used to it yet, and rather camp out in the rain instead. Hopefully soon, they will feel safe in the new barn. Our bottle baby story has been published in the March/April issue of the Brayer. We also made a new tab on our website for anyone to read.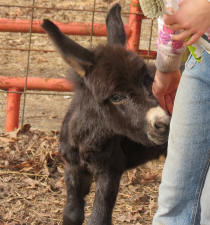 "First Pitch"

04. February 2017 - We have had an unusual winter. The weather has been absolutely crazy with huge temperature changes in very short periods of time. We had a couple of donkeys get a cold that we had to treat with antibiotics for the first time in many years. Not a surprise with this crazy weather. One day they burn up in their thick winter coats and the next day we have 15 degrees. With this crazy winter we welcomed two new foals - (one 11 months gestation foal) - both precious little boys. We also needed to add new blood to our breeding program. We have welcomed Firecracker from Texas, and will be welcoming Swagger from Wisconsin this spring. Sadly we will have to let go of Sundance and probably Nacho this spring once we see that Firecracker can handle his girls. After owning Sundance for 13 years it will be difficult to see him go. We will soon be getting ready for springtime foaling season. We'll have several babies due out of both Sundance and Nacho.


06. November 2016 - We have had a long summer, caring for our big rescue group, plus three additional rescue donkeys and a goat! I don't know a thing about goats... All worked out well, the rescue jennies were given the chance to have their foals here before they found some wonderful homes across the country. Even Billy Bob, the goat went to a great home where he now finally gets to be with other goats to Arizona. We have met some wonderful, caring people in the process that are providing these sweet girls with their forever homes. I am truly thankful! Have I mentioned, that Karena fell in love with two of the rescue donkeys... so for her birthday, they became her donkeys, so our family has grown a little more... especially since Harli has given birth to a spotted little girl...

28. March 2016 - We have had such a nice visit with a wonderful family! I just had to share.... It is difficult to say who enjoyed it more...

27. March 2016 - We are happy to report that two of the rescue girls have already made it to their new and permanent home. We are so grateful for such a nice family to provide them with a permanent home. All the donkeys have received their second set of vaccinations and deworming and we are happy to say that the hooves are shaping up after only the second trim. There are a few girls that will have a long road to recovery, hoofwise. Other than that they are doing great!

In February 2016 we have acquired a rescue herd. The herd has received their first vaccinations, dewormings and badly needed first hoof trims. Some of the donkeys had terrible sores caused by halters that were kept on too long and too tight. They are still healing. The donkeys had no shelter (except for the jack). We don't know which jennets are bred and which aren't and therefore will not put them up for adoption until we know more. We are planning on letting the jennies have their babies at the farm and then put them up for adoption later in the fall. By then their hooves should also be in better shape. The jack that they are bred to is in better shape (hooves) so he can be adopted out very soon. Please e-mail us if interested

11. February 2016 - As winter is still holding on we are excited to announce that we have purchased two beautiful brown jennies from the Elms Farm. We believe they will pair up nicely with Sundance and can't wait to bring them home.
The Elms Baby Doll and the Elms Sirena


18. October 2015 - Time never slows down. Again, it has been 2 1/2 years since I have written anything on this news page. We have considerably downsized our herd in this past three years and are now at 54 donkeys. We have found wonderful homes for several of our donkeys... We still have several donkeys available for sale including some very special retired jennies! Two of our retired jennies - that were part of our family for 11 years have left for their new home yesterday. It hurt to see them go but at the same time I am so happy for them that they have found a wonderful home where they are much loved and where they will get much attention. They have been best friends for about 10 years and were allowed to remain together! This summer has been a wet summer for hay making but we have managed to get it all up - somehow. Now we are getting ready for the cold weather making sure everyone will stay warm! Last night we got a first taste of freezing weather...


06. March 2013 - I can't believe how long it has been since our last update. Like most people we have been hit hard by the economic downturn and tried to make the best of it. Four years later it has not improved and our life has changed considerably. I am also now homeschooling our daughter so I don't have the time to spend with each donkey every day - the way it should be. We have been thinking long and hard and have come to the decision that our only option is to downsize our herd considerably. It is getting too much for my husband and I to take care of so many sweet long ears. It breaks our hearts but we need to do what is best for our donkeys. Hoof trimming has become too much and we literally work in the hayfield most of the hot months. We just can't keep up. We had a couple of really bad droughts that worsened the hay situation. We are not taking in enough money through our sales to support this big of a herd. It breaks my heart to think that we may need to sell some donkeys at an auction but it may be our only option. We welcome any serious offers on any of our donkeys.

29. October 2009 - We truly apologize for not updating our news in such a long time as well as not keeping our website properly updated this fall. We had a busy spring and an enjoyable first part of the summer, with my parents and one of my sisters visiting from Germany. I too went to Germany for a few days in May. I was supposed to deliver one of the puppies that the stray dog mom left us with to my sister. Lufthansa made a huge mess of booking the flights for myself and the dog with the end result that I had to take the trip myself without Louis, the puppy. They had booked him on a flight out of Nashville with me on a plane that was not equipped to carry animals in its Cargo area. We later then had to take Louis to Cincinnati, Ohio to send him to Germany by himself. What an ordeal... and quite costly on top of that. Lufthansa never offered a solution or agreed to help out getting Louis to Germany after they messed up so badly even after we repeatedly asked them to do so. Instead a wonderful man from PDQdelivers.com after hearing Louis's story helped us out and never charged us a penny for his work. He got him booked and all set up to go to Germany. I just had to carry him to Cincinnati, Ohio and pay for his ticket. So a special thanks to "PDQ Delivers" - we truly appreciate what you did for us and Louis! Needless to say our family is finished with ever using Lufthansa again.
We enjoyed my parents and one of my sister's staying with us - my parents stayed their usual two months and we truly enjoyed their company. They enjoyed our new babies and were very sad with us when we lost one of our foals to unknown reasons at that time. The day they left, August 4th, all went downhill. We had a 4 1/2 months old foal hang herself in a cattle panel. It was a hot morning and I missed her at feeding time in the morning. I was supposed to carry my parents to Nashville to the airport just shortly. I went to look for my baby and my heart fell into my stomach when I saw a ball of fur piled up in a cattle panel on the ground. I knew she had to be dead but ran over to check on her. She was still breathing but barely. I immediately realized there was no way to pull her head out of the panel and ran back up to the house to get my children to help me. We cut her out of the panel and offered her some water immediately. She was very, very thirsty but so weak... We realized she was in deep trouble, one of her eyes was already glazed over. It took all three of us to carry her out of the pasture and up the hill into the barn. She was unable to stand and we saw that her leg was badly injured that also had been caught in the panel. I got a hold of my husband so he took the rest of the day off work to take her to the vet while I took my parents to the airport. The poor little girl had three areas on her leg all the way down to her bone. The vet gave her a 50% of survival if we would be able to keep the infection out of her bones. Following were 6 weeks of first twice a day wraps and wound cleanings, down to once a day after about 3 weeks and many shots. Her neck as well as one of her eyes were badly swollen so she couldn't nurse. We at first kept her mom milked so that she would still have milk once the little one could nurse again. Once we realized that this was not likely to happen any time soon and the baby was about 5 months old anyway we just left mom with her for comfort. Today she is still with her mom. She never was able to nurse again. She seems to have made a full recovery now.
Then our Little Squirt got gravely ill. We knew he had the poops and antibiotics didn't seem to be helping. Another trip the vet and a blood test showed his values so off the board that the vet couldn't believe he was still living. He was put on people antibiotics and twice a day IV fluids. He is still trying to get his strengths back but has normal poop now and seems to be feeling ok. He still at almost 5 months of age does not drink water on his own and is totally dependent on his mom's milk. It looks like this little guy will stay with moma, too and hopefully he will get interested in water soon!
My sister, her husband Jochen and their mutual friend Harald came over from Germany in August for a visit. They were signed up to take part in the Ironman Competition Triathlon in Louisville, Kentucky. They were going to train here for 10 days before the competition to get acclimated, do the competition and then go on to visit part of Jochen's family in Ohio after the competition. Sadly it never came to any of it. Jochen while training for his swimming was hit by a pantoon boat on the lake. The driver was inattentive and didn't see the swimmers in their florescent green caps. My sister had already made it to shore and we witnessed the accident including my three children. 18 hours later the recovery teams finally recovered Jochen from the lake. This day and the time that followed seemed to make all my donkey problems fade in comparison and over 2 months later life is still not back to normal for us. I am still missing words and am hurting for my sister, so much! I am hoping that my sister can make it through this with the help of the now bigger rescue puppy, Louis, that Jochen wanted to have so much!
Since my sister and Jochen expected to qualify for the Ironman Hawaii, many of our little donkey foals born this fall ended up with Hawaiian names. My sister named some of them.
So again, I apologize for not keeping the website updated as it should have been. The donkeys were not neglected though and taking care of them is helping me to get through it all. We will be working on getting the website completely updated soon.

27. March 2009 - Another month has went by way too fast. We have continued our cleanup of storm debris and things are beginning to look a little bit better again. We did lose our very first baby for the year - he arrived early and never found the milk during a very cold night. It was very sad for his mom as well as for us. After that we welcomed 9 healthy foals since February 23rd that we are enjoying very much. They are all absolutely adorable and love being cuddled and loved on. Three of the foals arrived in a single day... the day my stepson got married... What a day to remember!!!
We are also still working on replacing our old fence and we are making some progress. We still have a lot more to go but we'll get there. It's a good thing that the little donkeys are not hard on a fence since several of the old fence posts were completely rotted off at ground level.
In about another week the 4 donkeys that will be going to Europe will be picked up for quarantine.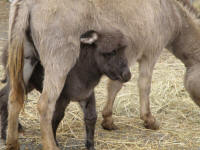 Snapshot of Pedro passing under his mom.... his favorite thing to do for the first few days...

08. February 2009 - What a month this has been! The year started out like the old year went out - all kinds of things broke and had to be replaced at our farm - including a new transmission in our truck that has just a little over 30,000 miles on it. Then the ice storm hit on January 26, 2009. It was an experience like no other and has turned out to be the worst natural disaster in Kentucky's history. A thick coating of ice was more than trees and power lines could handle and we were left without power for 11 days! We had planned for a storm and had water and food reserves for the animals and ourselves but didn't expect to be without power for this long. Freddie is chief operator for the City Water Department and had to remain with the water plant around the clock. They lost all of their water reserves (over 3 million gallons of water) due to a water main break that very night of the storm. We didn't see or hear from him for 4 days. I was home with the kids and the animals. We knew the roads were closed by fallen trees and were without power, new water, telephone service (both land line and cell phone). So we had to become creative with water collection. We collected icicles, snow and later melt off from the roofs. A few days later the roads were cleared and I was able to get water from the city water plant to haul back to the farm for the animals. Not a day too soon!!! Then it turned bitter cold (wind chills of 0 and -5 degrees and water froze instantly. It was a job trying to break the ice in the water troughs and the donkeys had to adjust to drinking freezing cold water. Our only heat source was a propane fire log in our sun room - so the two youngest kids slept in the sunroom and we spent most of our days there together. The other bedrooms were quiet frigid with 37 degrees in the mornings. (Doesn't make changing clothes and brushing teeth much fun).
We were so thrilled to get phone service back after several days and then finally power!!! It makes you realize how nice the things we take for granted really are! And how it is to live without them. So far it looks like everyone came through the storm just fine - I had been worried since several of the donkeys would not seek shelter in the storm but remained out in the open field around the hay bales - which they deemed to be the safest place in the storm. We will never forget the sounds of the constant breaking off tree limbs and trees and wondering if one will come down on our animals, our house. Of course we lost some food again - but that is nothing compared to what others lost.
We are back up to "almost" normal. We are still cleaning up. There are still many homes without power today and it will be a few more weeks before everyone is restored. We still were able to see the beauty in the devastation and have attached some of the pictures below.
Two of our fall babies have left for their new homes.

31. December 2008 - We have had a nice Christmas and today is the last day in the old year!!! We hope that everybody had a nice Christmas as well and that you will be having a wonderful and healthy New Year!
The best news to report is that our son got to enjoy Christmas! He feels so much better and it looks like he went into remission. He could not handle the new medication they tried on him so he is still on the old and today will be the last day for steroids! That will be a relief for all involved! We are hoping that he won't be getting any new flare ups for a long time!
We had a little surprise just a couple of days ago - Bluberry decided to have her baby in the old year! She had a little gray girl and is such a proud mom! She never became pregnant again after her first baby but now 2 2 1/2 year later she delivered a healthy and cute baby! We are very happy about that.
We have started to put up our new fence (the old split rail was breaking down). It will take a while but it will be so nice when it is finally finished. Of course we are depending on the weather for that and the weather has been crazy. We had a record high of 75 degrees just before Christmas just to slide down into the low single digits literally overnight. We have had several of these temperature swings this December but the donkeys are dealing with them well.
We should have a baby break until March - but who knows... they are known to foal early.... A Happy New Year to All!!!!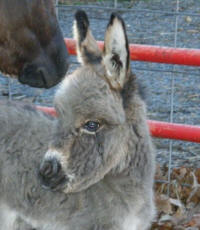 Gamila - DOB: 28. December 2008


05. December 2008 - This update is long overdue. We have had a tough couple of months aside from the donkeys.
The donkeys are doing well - we have had several little ones born this fall and all are healthy and cute! I truly enjoy spending time with them and do so every single day! Many of our babies are still for sale since we were not able to offer them on our website.
I would like to apologize if you have noticed that our website had not been updated in a couple of months. Our web site provider made such a mess trying to fix an issue that they created in the first place - that it left our website not "updateable". I ended up having to get another website program - with that a new computer - since the new program was not compatible with my old computer. It was time anyway since the old one was simply outdated by now and filled to capacity. Trying to get the new computer working properly cost me a bundle of nerves, also since the company failed to install the proper drivers for the computer to work properly. Computers can make me feel simply incompetent. My printer died, too - so I had to get a new printer as well. Then came a new camera so that I can take more beautiful little longear pictures.
Then our son became very sick. He has since been diagnosed with a chronic illness. Of course this has been tough to deal with for the whole family but everything seems to be improving now. We appreciate all the good friends that kept checking in on us - many of them owners of our little longears! We appreciate it so much!!! It showed us how many people really care!
Hopefully with the next update things will have settled down and we'll have only good things to report!

10. September 2008 - We've been very busy this past month as usual. We are now finished for the year with the hay!!! We are very glad that we didn't have as bad of a drought as was forecasted and were able to bring in plenty of hay to last us for a year!
We also had 6 foals so far (one was born just today)! They all arrived on average a couple of weeks early making me think that the "norm" for donkey gestation is not really 12 full months but less than that. We are enjoying those little ones very much and I just stay outside in the mornings loving on each one of them!
We have found homes for most of our rescues except for one jenny. You can look at her on our rescue page - she really needs a home since she won't enjoy having to live with the immature foal and yearling crowd!
6 of our donkeys are now in quarantine to go on to homes in Germany and Austria. The new owners are awaiting their arrivals anxiously! I have to admit I really do miss every single one of them.
We also got more good news from Germany! 3 more foals were born to the jennets that we sent over there already bred. We are so proud of them! All were spotted and below are some pictures! First row shows Happy and her jennet foal, the other two in that row are of Little Rainmaker and her frosted spotted white jack foal. The bottom left is of Little Bit's dark spotted jennet foal, the bottom right is of Rainmaker and Little Bit with their foals.
Below are pictures from Gittelde, Germany where Thumper and Almond Joy are in "Donkey Heaven" - inclusive of their own brand new barn, made for their small sizes as well as an own donkey playground that is wonderful for rolling!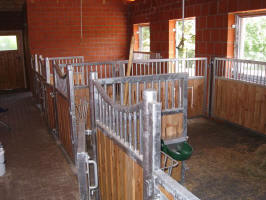 12. August 2008 - Where has the summer gone???? I can't believe it is already mid-August. We had a nice summer which was mostly spent doing hay! We have had some very hot temperatures and some very humid days! I tried to do my morning feeding and chores earlier than usually. I am glad we didn't have any Summer foals - our last foal was born June 12th!
We had a visitor from Germany that enjoyed spending time with our donkeys. He picked out a couple of donkeys that will begin quarantine some time around the end of August. Two others will be going to a wonderful home to Austria.
We have some new rescues that need a home! So if you are looking for one please take the time and visit our rescue page. We also have several little spring foals that still are looking for a permanent new home! A couple of little jennies but mostly little jacks.
We have also decided to offer our mammoth jennets for sale - only because we just don't have the time to spend with them what we have purchased them for. Two of them came here pretty much broke to ride - another one we took along with my husband riding her. One is gaited and the other two are puppy dog friendly and follow you everywhere!
We have pulled several of our expecting moms into the dry lot now to get them off the fescue pastures and to have a closer eye on them. The ones that are due later will be brought up in a week or so. I have tried to prepare some stalls so that I won't have too much work trying to get them ready when the time gets close. We should see our first fall baby within a month now and can't wait to see the new bundles of joy!!!

14. May 2008 - Time just never slows down! We have been very busy! We have basically went through our spring time foaling season without any updates. We have had 13 healthy foals born since the middle of February that we are enjoying tremendously. They are all so sweet and there is at least one that we will be keeping - of course I want to keep them all but we just can't! Once again, we had babies in pretty much any color out there.
Our jenny that cut her leg in the rope has fully recovered. It took 2 months of diligent daily rinsing and bandaging but she is doing great! She has also survived the ordeal without disliking us - I think she knows that we were just helping her. If anything she has become quiet the pest for attention now. I got her spoilt on treats - since those were what made her treatments more bearable for her.
On a sad note we lost one foal in a very difficult birth and the vet had to work very hard to get the baby out to safe the mom! We had another jenny that lost her foal for some other reason - but much earlier in her pregnancy which does happen once in a while. I can live with that but the bad birth made me wonder if I am made to handle these types of emotional upsets. They certainly leave scars and I sometimes wonder if I can handle any more of them...
We have purchased a jennet that has a jack foal at her side. We purchased her in order to keep her from being bred back again since she has an overbite large enough that she shouldn't be bred with. She can be seen on our rescue page as well as on on for sale page if you are interested in giving a home to her or her foal. Her baby has gotten quiet friendly now and mom is making progress! She is to go to a non-breeding home only!
The two little weanlings that went to Austria this year are doing great and are being very much enjoyed by their new owners. They have sent me pictures to update me. These updates always make my day and I know that my babies are being loved as much as I loved them.
April 2008 - Tariq and Miss Egypt (Missie) having a good time and being loved on in Austria!
Red Ruby one of the jennies that went to Germany has delivered a beautiful little boy for her new owners! Here is Romeo (out of Sundance and Ruby), a cute dark spotted jack foal! His new "Parents" are very much in love with him as they are with all three of the girls they got from us. In another week our Little Bit will be making the overseas journey to join them! She is currently in quarantine. I'm getting plenty of updates about the girls which I am very happy about since they are very dear to me!
Ruby's little jack Romeo...
The girls in line for a treat... Ruby checking out this strange smelling donkey....
My parents will be visiting for the summer again - so updates may be scarce for the next couple of months. This time one of my sisters will be coming over at the same time and we'll at least have 3 days with her. We are very much looking forward to it.

28. January 2008 I can't believe that January is almost gone! We had a very busy two months and are now in the middle of the winter. Temperatures have been all over - ranging from very cold to warmer than usual. The donkeys have gotten used to the temperature changes now.
We have had several donkeys leave since our last update - including 2 that went to Switzerland, 1 to Belgium, 3 to Germany and another one to Austria. All have made the trip just fine and are settling in at their new homes. It was especially difficult to see our pregnant girls leave for Germany since we had them either from birth or they came to us as very young donkeys. Knowing that they went to a wonderful home makes it all easier though. Two of our weanlings will be starting quarantine this week to go on to Austria next month!
We have just pulled some of the pregnant girls off the pasture into the dry-lot since they are due to foal in just a couple of months. We sold several of our pregnant jennies that were due to foal this spring so that will cut down the foals we will have this spring. In one way it is sad but I'll get a little bit more sleep this foaling season! That is always welcome. I am enjoying a winter without having to worry about babies being born in cold weather.
We had one of our jennies have a terrible accident getting her leg caught in a poly rope. We found her after she had struggled and freed herself but her leg was torn to pieces. I have never seen such horrific wounds and the vet couldn't believe it either that a rope caused those injuries. We always try to keep everything donkey safe but accidents do happen. She has been under vet care for two weeks now and is on her way to recovery. Her deepest and most dangerous cut was right around her fetlock all the way down to the joint. We were worried that infection would get into her joint at which point there would not have been a recovery. She is a trooper and is so sweet about it all. She loves her treats and braves the daily treatments. She had her last vet visit today and while it will take several weeks longer for her to heal completely she has made some pretty good progress on her road to recovery. She will still have to remain in a stall for about two more weeks and then hopefully will be able to get out to pasture on nice days anyway. I feel bad for her having to be stalled all the time but she has a friend to keep her company and I am soooo relieved that the infection seems to be now under control.
We have also acquired a new little jack - Lil' Half Pints Lil' Dexter. He is just 28 1/2" tall and it took me while to get used to this little guy. He has a sweet personality but he is longing for a jenny. It is still too cold here to do any breeding so he will have to tough it out for another month!
This has ended up being a longer update than I had planned on - but it was overdue anyway.

08. November 2007 Time is still flying even with it getting colder now. I can't believe that the Holiday Season will begin in just a few short days. We have stayed busy as usual since the last update. We finally had some more rain and the grass in our pastures that we planted came up to turn everything green again. Green looks so much better than brown. We have just finished up baling the last hay for the year this last weekend. We think we finally have enough to get us through the winter without being worried sick. With the hay baling came the necessity to purchase a new tractor since our old "new" tractor basically broke down every time we used it. Anyone looking to possibly buy a "Montana" tractor - I would advise against it.
All of our babies have arrived for the year - now we can enjoy them and not have to pull night duty to watch the pregnant girls. To the very end we have had some beautiful babies! We'll have a break till spring now. We have purchased a group of weanling jennies from Wisconsin again this year, since the ones from last year were so nice. Some of these will eventually be for sale. With the girls was supposed to come one boy so he wouldn't have to be the lone baby at the other farm. He would have otherwise ended up at the sale this winter or next spring. Two of the girls actually turned out to be boys so now we have three little boys that we'll need to find permanent homes for and that we have saved from having to go through a sale barn experience. So if you are reading this you may want to check out our sale/rescue page.
We still have some beautiful foals for sale that were born this year including the large standard/mammoth baby jack.
The Austrian donkeys arrived with their new owners and the donkeys for Switzerland will be leaving early December to start their quarantine. Below are a couple of pictures that the quarantine station sent to me when they were leaving for their flight across the ocean.

14. September 2007 I can't believe it has been almost 3 months since the last update. We have been so busy - enjoying my parents visiting from Germany and all the babies! We have had another big baby surprise. My riding jenny Chiquita gave birth to a beautiful light red boy! He is already 40" at just 6 weeks! (We didn't know that she could even possibly be pregnant when we purchased her a year ago).
This summer has been terribly dry for us. We were in a severe drought and it hurt the farmers the worst. Hay is in a severe shortage and is impossible to find. We are glad that we were able to put up some this spring and some more of some set-aside land that the government released for hay-cutting due to the drought. We lost all of our pasture. We are hoping for a better year next year. We finally had our first rains last week and replanted all of the pastures.
We also said good-bye to several of our spring babies that went to their new homes. They have found wonderful homes with some very special families and I can't say often enough how much that means to me!!! We have also had a few more new foals of which all but (probably one) will be for sale. We have had about every color which makes it so difficult to let them go! They are all beautiful and I would love to keep them all as usual!
We also had several visitors from all over including from Austria. The Austrians purchased three of our girls that left today to begin their quarantine in Texas before going on to Austria. We had so much fun with all that visited.
We are awaiting just a few more foals this fall and possibly a couple of winter babies.

22. June 2007 We have had a busy week once again with a new baby born and 4-H shows. Our little girl showed her very first donkey baby Primavera and did a good job. She also rode Loretta in the costume class. Our other daughter showed Velvet our standard sized donkey baby. Everyone had a great time!

09. June 2007 We have been enjoying our little babies. Soon the first ones will be leaving to go to their new owners. We still have many little donkeys for sale that can be seen on our for sale page.
The Norway donkeys have arrived safely at their destination and are well. Candie has delivered a beautiful spotted jack foal for her new owners in Norway. Below is a picture of Candie's new foal "Egil" named after a viking. Egil has one white ear and one dark ear and looks adorable!
Thumper and Almond Joy have safely arrived in Germany also and are adjusting to their new home also.

18. April 2007 This update is long overdue. We have had a busy first quarter with many babies being born. We have had some beautiful foals this year that most have been just added to our for sale page. We lost two foals at birth - both were unattended births to first time moms - it's just impossible to be there for every birth even though we tried. We also just recently had our first standard sized baby. We just can't get over those long legs! Most babies have arrived now - we'll only have a handful between now and the summer and just another handful this fall. We are enjoying the new babies so much! With the joy comes a load of work - lots of poop cleaning and giving every single one daily attention and extra attention if something is not the way it should be!
Two jennets and a foal have also left this month for quarantine to travel to Norway. Two more will be leaving next week for quarantine to go to Germany. The temperatures are finally getting warmer and summer will be here before long.

15. January 2007 The Holidays are over and a New Year has begun! Christmas brought an unexpected foal (mom had been bred the end of January) but apparently had settled in the heat prior. We named the foal Noelle since she was born Christmas Eve. She was born with a severe overbite and had considerable problems nursing the first few days. Now she has adjusted.
The newbies are getting friendlier by the day and of course I am already attached to them. I keep catching myself thinking about wanting to keep more than we had planned on.

19. December 2006 Another month has gone by and we have been very busy as usual. We have finished up all the hoof care for the whole herd (it's almost time to start all over again). That includes a whole herd of weanlings that we purchased - of which we will keep most for our breeding program. There will be some offered for sale though in the near future. Most have very nice pedigrees. The daily poop scooping has become a monumental task with the new ones but they are getting used to me much faster.
We also took a couple of our girls to a nativity scene this month. We have also moved some of our jennets that are due first into the dry lot. They are letting me know that they are NOT happy with it even though most have been there before.
We are now preparing for Christmas which is a task with three kids. Therefore this update is a little short.

16. November 2006 We have had so much rain this past two months that we are ahead about 20" of normal rainfall totals. I guess that is better than the drought. We'll see if that translates into hoof problems this winter. Now it's getting cold on top of the rain. Our spotted foals look like colored foals from all the mud.
We have finished our new barn for Jolly and his girls (except for a couple of sliding doors and they love their new shelter so much. We are now working on getting everybody caught up on their hoof trimming and have over half of them done. Another week and it will be worming time again. We laid a water line at our other place where we keep Lakota and some of his girls (as well as our big girls for protection) so that we can install an automatic waterer instead of having to bring the water in. That will make it much easier especially in the winter. We think our Rosie Mae (large standard) came to us indeed bred - this will be our first "big baby" and I am already worried since this is her first foal at age 7! Apparently she was bred by her own sire (which make things worse) who broke through the fence at his previous owner's place. Since we have had her since April we think she was bred some time in March or early April.
We have had no bad donkey related incidents this month which is wonderful. We have started to train our mammoth donkey Coquille. Our daughter however, fell off her horse and broke her collar bone. She's been getting spoilt and now it is difficult to settle her back into her normal ways.
We still have our rescue gelding up for adoption - free to a good and permanent home. We also still have our horse for sale in addition to some little donkeys. I can't believe that Christmas is just a little over a month away and we'll have to prepare for new foals very soon, already.
Wishing everyone a nice Thanksgiving and a nice Holiday Season!!!

7. October 2006 Another month has gone by. We've been busy getting up hay and have almost finished now. We also had our last four babies born for the year but lost little Sage at just 7 days of age literally overnight. We are still waiting on test results from the necropsy but have learned that he has died from "entenitis", an infection in his small intestine. The other three foals seem to be healthy and I am holding my breath!!!
We have had to start building a barn that will be hopefully completed soon. The older, smaller one got blown away in a terrible storm we have had. The new one will give Jolly and his girls a nice, roomy shelter. The sides and roof is not on yet, but the donkeys don't seem to mind and spend plenty of time in it.
We also took in a beautiful gelding whose story can be read on our "rescue page" as well as "for sale" page. He is in need of a new home. If you think you may want to give this boy a good and permanent home please read up on him and contact us at donkeys@littlefriendsranch.com
We purchased a mammoth jenny for our youngest daughter to ride. Our little girl loves Loretta and enjoys riding her. Loretta is a sweet girl that follows our Chiquita in a steady walk. She seems to love kids!!!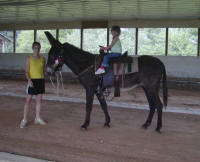 17. August The summer is almost over but the temperatures are still hot. I didn't realize it has been this long since our last news update. In July, yet another little jenny was born in Norway to Daisy Bell (with our Sundance) being the proud sire to this beautiful brown/spotted little girl. This was the last baby due in Norway.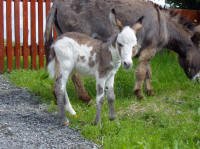 We too had a little girl born in July and two little jacks at the end of July - of which we sadly lost the beautiful, spotted baby due to heat at 4 days of age. Now we had another little girl in August which is simply beautiful. The last three births had been early - probably due to the heat. We have decided to not begin breeding our jennets until September instead of August as we used to. We do enjoy all of the babies so much!
A few days ago our July baby (Cabreeze) had a terrible accident. One of our jacks bit her through the fence into the neck which left her neck badly swollen and unable to nurse. It took two full days and nights of syringe feeding little Cabreeze and one tube feeding by the vet to get her to where she felt well enough to nurse on her own again. We are hoping for a full recovery. The next few days will be crucial as we will be weaning her off the pain meds. We can't be thankful enough for how good her first time mom has been through all of this. She had to endure many milkings and had to watch us work on her baby day and night. She had to stay in a stall which she normally does not like at all. She didn't complain once as if she knew that we were trying to safe her baby.
We have also purchased a new jack baby - hopefully to become one of our herd sires some day. We will have to wait for him until December. I also purchased a riding jennet that is already trained - which will make training Coquille (our mammoth jenny) much easier. We will bring her home soon.

17. May 2006 We have had a busy two weeks. We have had several visitors to our farm. We also had another little jack baby (to be posted on the new foals' page soon. Another birth announcement from Norway - Jasmine gave birth to a beautiful very dark jenny baby! We are very happy for her owners.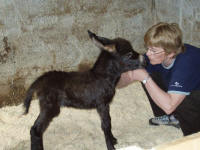 I have also with my daughter attended the Rio Brazos Miniature Donkey Expo in Texas. It was wonderful meeting fellow donkey breeders and owners and have again realized that we all share the love for these wonderful creatures! Not only did we have a great time but we also learned a few things.

01. May 2006 April has been busy once again. Our jacks have been busy taking care of the girls for next spring. Makes for some happy boys!
I have also come a long way with Torino, the rescue jack before he left for his new home. He was gelded before he left and his new owners are very happy with him. They can't believe how friendly he is. I am so thankful for the wonderful people that had offered to take him in and we couldn't have asked for a better home for him.
We have also gotten news that Kendra had a beautiful spotted jack foal for her new owners in Norway - we think he is adorable.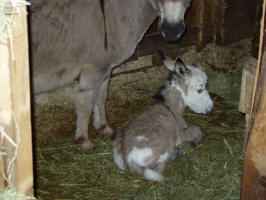 We have also purchased two large donkeys. Rosie Mae is a dark brown, large standard pack donkey. She is beautiful but we are sorry for her having had to leave the one owner she has known in her life! She is 7 years old and hopefully she will learn to like us as much as she did her previous owner. He has extensively packed with her throughout the country. The other one is "Coquille" a 3 year old mammoth, red roan jennet from Ed Buis of Perryville, Mo. I fell in love with this gentle giant and can't wait to bring her home.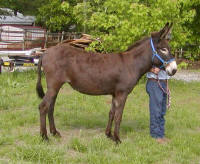 Above - Rosie Mae
The dog attack case has brought some kind of conclusion but it remains to be seen if the owner can keep his dogs confined. He was ordered to "take reasonable steps to keep his dogs confined to his own property". I'm not too confident that this will happen. He is also ordered to pay monthly payments to the court to pay for Poquita, the little jenny that my husband saw getting eaten alive by the dogs. The other two little jennies are our loss since we didn't catch the dogs in the actual process. I am too afraid to take any of the donkeys back to the farm. Maybe one day I can trust the mammoths enough to protect the little ones but I don't know.
I am now preparing for a long drive to Texas to attend the Rio Brazos Miniature Donkey Exposition. It should be an educational and fun experience. Freddie will stay home to take care of the donkeys.

01. April 2006 March has been a busy month. We have had most of our spring foals born - (5 jacks, 1 jenny). We lost a 6th jack foal in a terrible dystocia (difficult birth). The baby was laying backwards and upside down. This was one of my worries for a long time. The vet had to pull the baby. We are glad to have saved Holly, the mom. Holly will now retire - not because of the difficult birth but because we had already made up our minds well before - very well deserved. We are happy to have one of her daughters "Q-tip" for our future breeding program. We will have a little break now before three more babies are expected some time this spring. I need some sleep!
There have also not been much development in the viscous dog attack case. We had a court date but no decision was made since the defendant was charged under the wrong statute. Now they seem to want to just sweep it all under the rug which is quiet upsetting considering that the dogs are still free to roam and we cannot utilize our property that we purchased for our donkeys in fear of additional attacks.

02. February 2006 We brought home an almost 18 months old, gray standard jack today. He has never been handled - so once again I will have my work cut out to try to get him to trust me. He has never had his hooves trimmed but they are in remarkably good shape - it took a loooong time to get him loaded AND unloaded. We will be looking for a home for him - we just didn't want him to end up at the sale barn or in an abusive home. If you think you may be interested and are able to provide him with a loving home please contact us. Will post pictures soon. Torino has been adopted.

02. February 2006 We want to thank everyone that has sent such nice comments on our farm segment that has aired on RFD TV today. We are happy that you could "visit" our farm to get to know us and mainly our long eared family - even though it wasn't in person.

17. January 2006 We are excited about the newest member of our family that we brought home about two weeks ago. Our new little "big" girl is out of a 56" mammoth jennet, and at 7 months is about 45". We are hoping that she will grow into her new role of protecting the "little ones" of any 4 legged predators. When she first got here she was going to attack our two pet dogs which is a good sign! The dogs sensed quickly to not push the issue. At the same time we are hoping that a few years down the road she may make a good mount for our daughter. She has adjusted well to the "weanling/yearlings" and we already love her!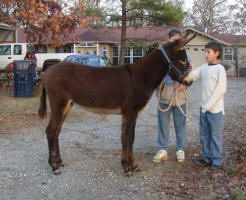 31. December 2005 December proofed to be another tough month for us. I guess we can say "When it rains it pours". We ended up loosing Sugarpop the third jennet that had been attacked by the dogs. It was so hard after all we have been through with her and she "seemed" to have won the battle. We also lost one of our 4 months old babies. We think she broke her neck, running into an 8" corner post in the pasture. A freak accident that we hope will never happen again. She was an extremely lively foal and "loved" to run full speed! I still can't believe she is gone! I always enjoy and love to see the babies run and play but now I look and worry when they are so full of energy!

03. December 2005 Even though the weather was not great (sprinkled rain all day) we took Valentine to the Christmas Parade today. We are so proud of her! She was not at all intimidated by all the people or sounds and did everything I asked her to. She even crossed the red cobblestone cross-walks at court square. We only got pictures of her in the line up since Freddie had to help to get her ready. My daughter rode her horse in the parade with her 4-H drill-team.

22. November 2005 We are excited to welcome our two new Texas girls. They have adjusted well. We are planning on taking at least one of them to the local Christmas parade in December. We are preparing to send two more of the spring foals on to their new home this week. They will be missed.

23. October 2005 This update is long overdue. This past two months have been very busy with many nice things but also some very sad things happening.
Palarmo that has gone to Germany delivered a beautiful, spotted little jack foal that will likely be a future herd sire for Roverstar in Germany. Another jennet that has gone to Norway delivered a very handsome brown baby jack for their new owners.
Some babies have left for their new homes while we also brought home some new additions for our herd. We have had some beautiful fall babies born about which we are very excited. They are so sweet and a joy to be around. All are big loves and cannot get enough attention.
On a sad note - We lost one little jack at two days that the vet says was probably born without the ability to absorb nutrients in his intestines which is rare. He was fine for a day then went downhill really fast and spend the second day at the vet until he figured out that he was not able to safe the baby. While it was heartbreaking - it is something we have to expect and be able to live with. What we cannot accept is that we lost two of our smallest jennets this month to a German Shepherd and an Retriever/English Setter mixed dog. It's been devastating and we miss both of them. We have had Poquita since she had been 2 weeks old and little Brenda came to us at 5 months. They were both 21 months old when we lost them. It will not be the same around here without them - I miss them terribly. I have added a page to this website with the sad story in an attempt to spread the word about the danger of domestic dogs if they are allowed to roam and that miniature donkeys are not guard animals. Hopefully by doing that some little donkeys or other livestock can be saved from a similar fate - and dog owners may become aware of what their dogs may be capable of - if given the opportunity.

14. August 2005 We have had to say good-bye to the girls that are going to Norway. I didn't think it would be so difficult for me to let Jasmine and Macarena go. I know they will have a good home though. I will never forget that sweet look in Jasmine's face right before she left which made me so sad.
On a more cheerful note - we have had several beautiful baby girls arrive this past two weeks. We will keep 2 or 3 of them but the choice is the toughest one, yet since I LOVE them all!

29. July 2005 We are getting everything ready to welcome our late summer/fall 2005 babies and to send our spring babies on to their new homes soon. We are excited about the upcoming foals but are sad to see "our babies" leave.
We are also getting 5 jennies and a foal ready to begin their journey to Norway in a few short weeks. It will be bittersweet to see them leave since some of them are "our babies" that have grown up here. Since some of them have been here for several years we will miss them very much! At the same time we know that they are the foundation to a new herd for Kristin Vaagene in Skodje, Norway and are proud that she chose our donkeys to begin her venture!
We also received a new picture of our first baby born in England last year and think she is beautiful! Here she is: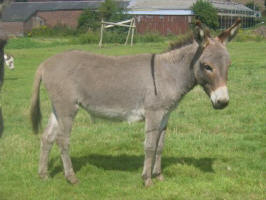 16. July 2005 We got some much needed rain from what was left of Hurricane Dennis during this last week and with it arrived 3 little jennet foals of which two of them were early (2 weeks and 23 days early). The first one is full of Dennis's spirits. We enjoy them very much and are just glad that the early arrivals are doing well.
We also had two jennies leave for quarantine to go on to Germany this week. I miss them already but I know that they will have a good home with Agnes Manthey at Roverstar Donkeys!

29. June 2005 We have had another busy two months. More babies were born and most are spoken for. We still have two little jacks and a jennet foal along with their mothers for sale. We have a month now to get ready for our late summer/fall babies which includes installing a new monitor/camera system. We are already getting excited to see what Sundance's babies will look like.
We have also added a few new, nice jennets to our herd.

15. April 2005 We have had a busy three weeks. 4 of our jennets delivered their babies and they are all beautiful and adorable. We are awaiting a few more babies within the next month before we'll have a break for June and July. We've also gotten to meet some very nice people that have visited to spend time with the donkeys.
Alfredo, the little rescue jack left for his new home today. I will miss his cute little bray around feeding time and I will miss my daily one-on-one time with him. I am very happy for him that he has found a permanent and loving home.

23 March 2005 We have had a busy month. We have found homes for Alfredo and Kiwi - two of the little rescues. Kiwi has went to a wonderful home already and Alfredo will be heading to his new home mid April. We very much appreciate the two families that have come forward to adopt these two special donkeys.
KC's Tuff'R Us, one of our breeding jacks has also went to his new home to continue his breeding career at Oak Ridge Farm. He has been with us for almost 3 years and we do miss him.
We have also welcomed our new jennet from Wisconsin. She was further along in her pregnancy than thought and developed hyperlipemia. If we had known how close she was to foaling we would have never had her shipped this late in her pregnancy. After a couple of days in intensive care and supporting home care afterwards she made a full recovery and surprised us with a beautiful spotted baby boy two weeks later on 12. March 2005. We named him Domino and he can be seen on our "New Foal" page and on our "For Sale" page. He is a special little boy but sadly we can't keep any more boys. Domino has sold.
We are looking forward to our own first babies starting to arrive any day now. They will be listed on our new foal page as they arrive. Most will be for sale.

11. February 2005 We have brought home three very neglected miniature donkeys last Monday. They are considered a rescue. They will have their own page on our website showing their progress. We are soooo very thankful for some wonderful people that have assisted us with some financial contributions, professional advise and moral support to bring these poor little donkeys to our farm for rehabilitation. We couldn't have done it without them!!! There is a spotted jack foal that is about 9 months old but not yet geldable. He is in good shape but needs some loving that he has not received in his life so far. We will be looking for a new home for him soon, after he has received his vaccinations. A potential new owner will have to agree to practice responsible ownership, providing regular hoof care, vaccinations and de-wormings, and lots of LOVE! He will also have to have an equine companion. Alfredo, the spotted jack foal has been adopted out.

12. January 2005 We have purchased and welcomed a small herd of donkeys from Northern Indiana. (5 jennies and a jack) They are all very friendly and sweet natured donkeys that we are enjoying very much already.

1. January 2005 A Happy New Year to All! A big Thank you to all that have purchased donkeys from us in 2004! It's been great to meet so many wonderful people. The new year has begun and we are looking forward to our first babies around the end of March - early April. It's still a few months off but we are already excited anyway. We once again offer an e-mail mailing list for new baby announcements. If you would like to be placed on this list to be notified of any new births - please send us your e-mail address.

26. December 2004 We have had to make the decision to remove our guest book from our web page in its present form and alter it to not be able to receive any comments. Our guest book has been increasingly abused lately with unsuitable ads, etc. that have no place on a donkey page. I am spending more and more time deleting those ads from the guestbook. While I would still love to receive donkey related comments we have decided that we will still continue to list those comments received from fellow donkey lovers and site visitors. If anyone would like to leave a comment regarding our site and or our donkeys please e-mail us at our e-mail address listed on every page on our site. We would very much appreciate to receive donkey related comments that will be posted to the Guest Book in a "read only" format so that other visitors can still enjoy the wonderful comments we are receiving from all over the country and the world.

18. December 2004 Over this past month the last of our spring/early summer babies have went to their new homes. With each one that leaves a little part of me goes with them.... I've been thankful to get periodic updates from new owners, all just wonderful people! I can say all of our babies have went to very special homes where they are much loved! Thank you to all that have purchased one of our babies.
Today Pierre and Eilene (our pet quality - non breeding pair) that came with the herd that we purchased earlier this year left for their new home as well. Morgan that will be taking care and loving Eilene wore the cutest little shirt that I had to take a picture of.... I know both donkeys will be well taken care of and be much loved. Here is a picture of the shirt she wore - I thought it was really cute: the picture can be enlarged by clicking on it but it reads: "Eilove Eilene", under that a picture of Eilene's head and below that "And.... she's comin' to live at our house".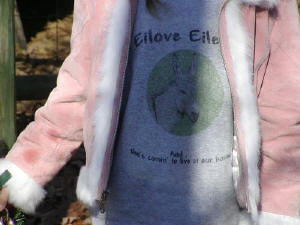 20. November 2004 Our four little girls arrived at their new home in England a couple of days ago and are doing just fine! The Texas weather was a lot warmer than the weather in England so the new owners had to go and buy 4 little winter blankets to make the transition a little more comfortable for the girls. All of our donkeys here in Kentucky are now putting on their winter woolies in a hurry!

18. October 2004 We have had a very busy week. We had three new babies born (the last ones for the year). The last one had a rough start and required our constant attention for the first 14 hours - even Freddie (hubby) had to help with feeding her. I'm sooo happy that she made it and is now doing well - though I'm very tired.
This weekend the 4 little jennies that will be heading to England were picked up to begin their 30 day quarantine in Texas before they will take their flight across the ocean.
We also welcomed a jenny with foal from Utah last night.

26. September 2004 Two more babies were picked up by their new owners today. While I will miss them it's been such a pleasure to meet such nice people that have already fallen in love with their new 4-legged family members.

22. September 2004 This past week I have seen two of our babies go to their new homes. I miss them but I know they have wonderful homes.
I have also achieved a "huge" milestone with "Tupelo" - one of the new jennies that I considered to be the most afraid of all the donkeys that we brought home with the herd. When we got her she shivered like a leaf when we just got close to her (50' or so) and then bolted. She was the only one to EVER attempt and jump one of our stall gates after we brought her home because she was so terrified... I knew I had a huge mountain to climb with her. She has gotten very inquisitive over this past week and has been looking forward to feeding time, and really wanted me close but wouldn't allow herself to let me touch her. She advanced from eating from a bowl with me in the stall to eating out of a bowl on my lap with my arms hugging the bowl, to letting me pet her neck while she was eating for the first time today. First she backed off a couple of times - then she just continued with her feed. She even came back to the empty bowl and allowed me to pet her neck. Needless to say - her progress made my day. Let's hope she remembers tomorrow morning.

02. September 2004 We have purchased another herd from a breeder that retired from the donkeys. Apparently they are pretty wild. We are making good progress though in gentling some of these "wild/timid" newcomers. It's been very time consuming but well worth it. It's been a joy to see the new babies progress from "Don't you dare to come near me!" to "Can I have a hug?!!!" - kind of babies. Some of these donkeys are for sale and are listed on our "For Sale Page" since we can't keep them all.

22. August 2004 Two of our babies went to their new home today and I miss them tonight.

20. August 2004 We have had a busy summer loving on and taking care of all the cute little bundles of joy born this year. My parents from Germany have been with us for 2 months this summer and they thoroughly enjoyed ALL donkeys.

15. June 2004 Our new farm prefix for registrations is now changed to "Little Friends" instead of "Little Friends Ranch". The change was done by the registry (ADMS) to accommodate their needs for shorter farm prefixes.

15. June 2004 On June 12, I finally brought home Moonbeam a little spotted jennet from Georgia. Along for the ride in the van came her best friend Brenda that I had no intentions of purchasing. They behaved wonderfully and didn't complain once on the over 8 hour trip home.

07. May 2004 On May 06, 2004 Lizzy foaled a 4 week premature little baby girl. Baby today is doing Ok after we had to supplement with milk and colostrum replacer. Lizzy has more milk today and baby seems to be satisfied with the amount of milk she is getting from her mom now.

16. April 2004 We have had another "first" here - 3 jack foals born in about 20 hours - the jennets all had different breeding dates but they decided to all have their babies at the same time. We have never had 2 foals born on the same day!

30. March 2004 A few days ago we lost our beloved Butter Cup. It's been terribly sad around here. Her tribute can be seen under "In Loving Memory".

22. Feb. 2004 We have purchased a small herd from the B-7 Ranch that has went out of the donkey business. From that herd we have a little baby jack for sale since we can't keep any more jacks. He can be seen on the "For Sale Page". Sold

20. Feb. 2004 Our first baby for the season has arrived. A little rose-dun jenny foal born to Little Friends Ranch Cookie and Ass-Pirin Acres Jolly Roger. You can look at her under new foals and "donkeys for sale." Sold

09. Jan. 2004 KMA The Sundance Kid has arrived from Montana. We are very pleased with his quality - he is such a heavy boned, good-looking jack.

18. Nov. 2003 We would like to introduce our newest future herd sire KMA The Sundance Kid that will be coming from Montana from KMA Miniature Donkeys. We think he has striking color and is a handsome little jack. We can't wait to bring him home.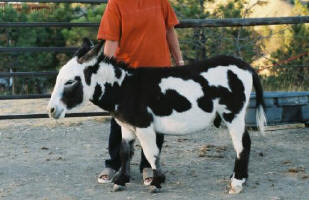 We are proud to announce that one of our little foals "Little Friends Ranch Morning Glory" won the picture contest on http://Equusite.com on Oct, 12, 2003. She also received the highest score of all entries in October scoring a 9.57 out of a possible 10 and therefore was awarded "Horse of the Month" by Equusite. Here she is and we are so proud of her! She can be seen on http://equusite.com through the month of November, 2003.


Testimonials from new "Donkey Parents"
Vicious Dog Attacks (contains a disturbing picture)
Donkey News
Please click the link below to E-mail us: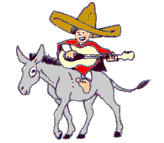 donkeys@littlefriendsranch.com
The Little Friends Ranch
Nadia Attia-O'Bryan
1034 Carl Crisp Rd.
Almo, KY 42020
270-753-9270
since 8. Feb. 04