About Us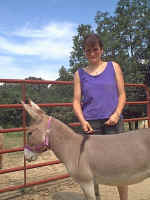 Owning a donkey was my childhood dream when living in Germany. I had fallen in love with donkeys while on a visit to Egypt, my father's native country. I was not able to fulfill my dream until I moved to the United States and acquired my first Miniature Donkey in 1992, rescued from a kill-buyer. His name was Pablo. After being a companion to some cows and a pony for several years he finally got two companions of his own kind. Three became more over the years and now we own a herd consisting of various colors and ages. They have come to our farm from all over the country.
We continuously work to improve the quality of our breeding stock. All of our foals are raised in a family environment. Our sweet babies make perfect family pets as well as quality brood stock and bring us joy every day. We like to share some of that joy by finding loving homes for our foals and sometimes jennets of various ages.
Over the years we have also rescued and rehabilitated several donkeys from some very unfortunate circumstances and have found them new homes. There is no better feeling than to know that you have made a real difference in an animal's life - often for donkeys on death row - that you have given it a second chance.
Our farm is located in the Western part of Kentucky, 35 miles south of Paducah. We are close to the Tennessee, Missouri and Illinois State lines. We are located 8 miles west of the beautiful "Land Between the Lakes" Wilderness Area.

About Us
Testimonials from new "Donkey Parents"
Vicious Dog Attacks (contains a disturbing picture)
Please click the link below to E-mail us: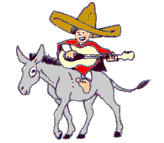 donkeys@littlefriendsranch.com
The Little Friends Ranch
Nadia Attia-O'Bryan
1034 Carl Crisp Rd.
Almo, KY 42020
270-753-9270
since 8. Feb. 04